Text: T Murrali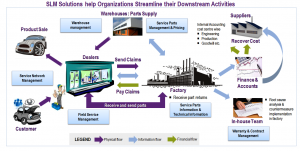 In a bid to address the market faster, vehicle manufacturers have been looking at delegating design responsibilities too to the components manufacturers, leveraging their domain knowledge. Though this concept is yet to get the critical mass in India, signals on the transformation of auto component manufacturers graduating to 'concept to part' from 'print to part,' is evident. As these companies are challenged with the entire spectrum of new product development – right from research to manufacturing and after sales service besides providing market information, they are looking at solutions to make their journey successful. These emerging trends give immense opportunities for the companies that develop software as also those involved in offering IT services.
Capitalising on the emerging trend, ITC Infotech India Limited is focusing on auto component makers to cater to the requirements of Service Lifecycle Management (SLM) in addition to other software. Speaking to Auto Components India, Deepankar Ghosh, Vice President – PLM & Engineering Services, ITC Infotech India Limited said the company already caters to a host of OEM customers including Maruti and Mahindras, and several Tier-1 companies like Motherson, Sumi and Pricol. The company that provides comprehensive solutions through dedicated development centres, offices and delivery centres in North America, Europe and Asia Pacific, in addition to two delivery hubs in Bangalore and Kolkata, is expanding its services to even the smaller automotive components manufacturers.
Ideal Scenario
Typically, in any operational backbone of a manufacturing company, there will be three layers: Operations – comprising of manufacturing, customer/dealer management etc; Administration – encompassing HR, Finance and Legal, and finally Research & Development. These are standardised operations supported by Enterprise Resource Planning (ERP). Today, ERP has predominantly overshadowed and taken over this path. Earlier, it was MRP (Manufacturing Resource Planning) and so ERP was kept out.
There are plenty of players offering ERP solutions while CRM is managing the customers' profile, buying patterns etc. To some extent ERP supports the users in managing these kinds of information. Like some industries, the auto industry also needs a special package as it covers several avenues – right from the suppliers' supplier to customers' customers, including vehicle manufacturers and dealers. For instance, even if the OEMs need to profile the end-users, it is directed through the dealers, and therefore, dealer management solutions need to support these initiatives. All these were supported by legacy applications.
With time to market becoming shorter and complications in design (due to increasing expectations from end-users) increasing, the development phase of a vehicle is handled by different departments now, which used to be managed earlier by a team from one department. These requirements demand a platform that can be accessed by the different departments involved in the new product development process to work simultaneously. And PLM – Product Lifecycle Management, evolved, enabling the users to work in tandem and address market demands at the earliest, besides managing the change, bill of materials, approval processes etc. Over a period of time it encompassed supplier management, government regulations and others. However, all these initiatives can fructify and sustain if the same is replicated in after-sales service with steadfast integration with PLM. This vacuum is filled by Service Lifecycle Management (SRM), says Ghosh.
Though SLM has been in vogue for close to a decade it has not gained prominence as it was driven by customer experience. With competition becoming fierce and customer loyalty fragile, losing market share is unaffordable for the players in the auto industry. Manufacturers are in the midst of a paradigm shift with a strong focus on improving their service performance as the service information empowers downstream users to operate, support and repair a product throughout its entire life-cycle. This is because the quality, usability and accuracy of service information is critical to product and revenue success.
Manufacturers are participating in transformational initiatives that expand their companies from product focused to service focused businesses so that they can maximise their customer's value, which in turn drives corporate growth. SLM solutions help organisations streamline their downstream activities.
PTC's Service Lifecycle Management solutions has several layers offering solutions on technical information, service parts, warranty management, field service, service knowledge management, service parts pricing, service depot and network management. The suite of solutions helps companies deliver accurate and relevant product information in real-time for supporting their products throughout the service lifecycle, as it offers end-to-end solutions, he said.
Headquartered in Bangalore, with wholly-owned subsidiaries in the UK and servicing Fortune-listed customers across North America and Europe, ITC Infotech advises clients on leveraging the maximum out of these tools, so as to get the best benefit. "We will implement the software, streamline their processes, and enable them to get the benefits. Besides, we maintain those systems since the trend is that the user industry is looking at focusing more on their core competence," explained Ghosh.
However, these are not available as SAS models, where the customers pay for the applications used based on time. ITC Infotech's model is such that it out-sources the whole aspect of operations and maintenance. The customers have to buy the software as it needs supporting hardware and related paraphernalia. Therefore, ITC Infotech takes the whole aspect of maintaining and operating it for the customers, remotely in a secured atmosphere, he noted.
Challenges
On the challenges in convincing the small players in the auto components space, Ghosh said, "It is to get suppliers access to the systems of OEMs." While ITC Infotech provides the services, the benefit will come from the software systems. The company that specialises in the PLM software assists the customers even in selecting the most suitable product.
ITC Infotech provides IT services and solutions to leading global customers. The company has carved a niche for itself by addressing customer challenges through innovative IT solutions. ITC Infotech is PTC's largest service partner in the world. It has about 600 dedicated people to just serve PLM and SLM products. The service providing company has done more than 1,000 implementations in the world. Besides, it provides end-to-end solutions, to be a trusted advisor to customers. Moreover, since the company is closely integrated with PTC, it has first-hand advantage of knowing the products intimately, to know what is going to happen in these products as it works with the principal even during the product development stage, concluded Ghosh.